Director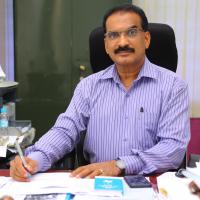 Dr. Ramamohan Reddy Kasa
Professor of Water Resources
Director (I/c),
Academic Audit Cell & OSD to VC JNTUH
Prof. K. Ramamohan Reddy obtained B. Tech. Degree in Civil Engineering from Sri Venkateswara University, Tirupathi; Post graduation and Ph. D Degree in Water Resources from Jawaharlal Nehru Technological University, Hyderabad; So far, he had put in 33 years of teaching experience in different capacities as Head, Centre for Water Resources in IST, JNTUH, and also as Head, Centre for Special Information Technology, IST, JNTUH. He has as many as 56 research publications in national as well as international journals and conferences. Research paper titled: Flood Mitigation and Management, was adjudged as the best research paper by Indian National Council of Hydrology, New Delhi. He was a member of the Recruitment Board, National Environmental Engineering Research Institute, CSIR. He has been a member of Boards of Studies of various Engineering Colleges. He has been the Principal Investigator of two Research Projects. He has also been a resource person in framing the curriculum for M. Tech degree in integrated Water Resources Management Program for capacity Building in South Asian Region, TERI University, New Delhi. Dr. Ramamhan Reddy guided three Ph. D. Candidates and 52 M. Tech students. He was a Panel Member of Draft Committee on Innovations and Best Practices in Autonomous Colleges formulated by National University Educational Processing and Administration, New Delhi. He also offered his services as placement officer and helped M. Tech., M. Pharmacy and M. Sc. students in getting placements. He established Global Navigation Satellite System Laboratory in Centre for Spatial Informational Technology under Corporate Social Responsibility Programme from Hexagon Company, India. He is the Coordinator for the training programme given to employees of Infosys Company, Hyderabad on Intermediate concepts of GIS. He also executed two consultancy projects related to the Geo-physical Investigations. He was the Convenor of two international conferences titled "International Conference on Hydrology and Watershed Management". He worked as an Additional Controller of Exams from 2002-2008 and as a Controller of Examinations from 2008 – 2010. He was the regional Coordinator for EAMCET, ECET and various State Government Recruitment tests. He was also the Chief Regional coordinator for combined State Forest Department Recruitment Test. Presently, he is officer on special Duty to the Vice-Chancellor and Director I/c, University Academic Audit Cell and Coordinator, Internal Quality Assurance Cell, JNTUH. He is BOS member of Civil Engineering (PG), JNT University, Ananthapur and BOS member of G. Pulla Reddy Engineering College, Kurnool. He is the Governing body member of five affiliated colleges of JNTUH. He is also the member of Board of Governors and Environmental Management Forum Coordinator, TEQIP-III, Institute of Science & Technology, JNTUH.
Contact :
---
Dr. Ramamohan Reddy Kasa
Director (I/c), Academic Audit Cell & OSD to VC,
Second Floor,Administrative Block, JNTUH, Kukatpally, Hyderabad - 500 085.
Phone:
040 -3241 4600,
Email:
duaac@jntuh.ac.in